Sewn binding with hard granite-like cover, 128 white pages with grey ruling and a ribbon bookmark. Space to write date, name, company/address, person to see and arrive/depart times. Heightened security concerns make this a must for every company. Contains 30% recycled paper. Size: 8 1/2" x 9 3/4". Bilingual.
BLI34870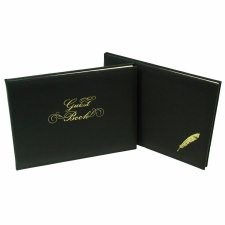 Record attendance at conventions or meetings with this case bound, leather like,100 page guest book. Size: 7 1/4" x 10". Colour: black.
WNN63209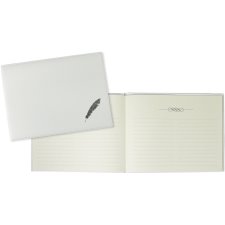 Faux leather cover with quill creates stylish look for professional use. Quill emblem on front cover. Ruled pages provide room for 26 entries on each page. Section-sewn binding prevents pages from being removed. 100 pages. Textured, leather-like cover, cream coloured pages. 7" x 10". White.
WNN66324